Brown Stew Veggie Chunks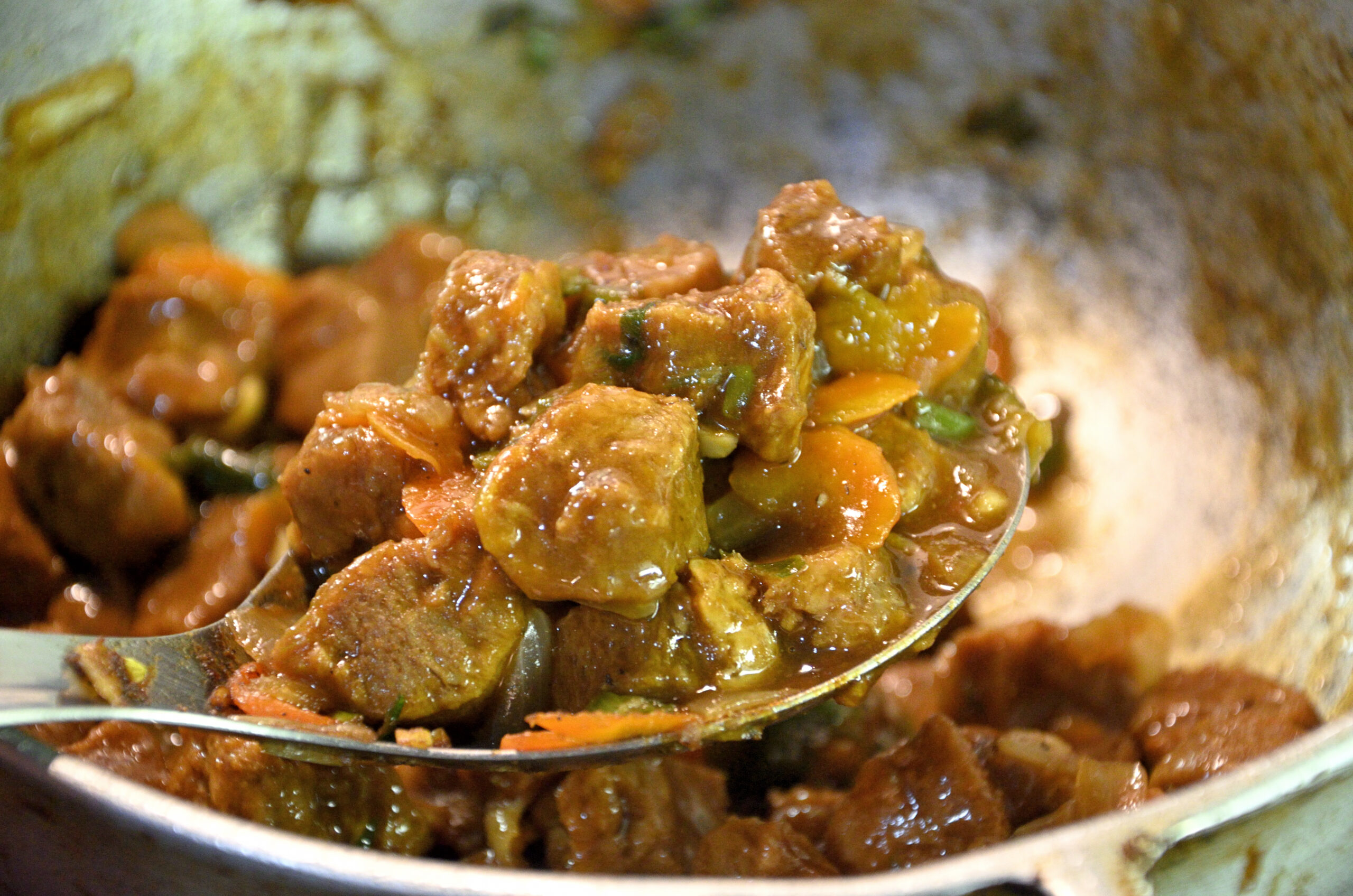 This authentic flavourful, protein rich brown stew veggie chunks starts with soya chunks that have been seasoned and stewed with colourful vegetables for flavour. It's a quick and easy recipe perfect for serving with rice and peas, fried plantains. Veggie chunks are quite popular in the Rastafarian and Ital communities.
WHAT ARE VEGGIE CHUNKS?
Textured or texturized vegetable protein (TVP), also known as textured soy protein (TSP), soy meat, or soya chunks is a defatted soy flour product, a by-product of extracting soybean oil.
Chunks or Soy/Soya chunks are an ideal family food-rich in proteins and easy to prepare. They are made from fully cooked soya bean and can be used in almost any dish. After absorbing water, they turn soft and expand in shape and size. 
As I mentioned above, "veggie chunks" are quite popular in the Rastafarian/Ital community. But of course they can be enjoyed by everyone. Personally I always thought veggie chunks were strictly the domain of Rastafarians; until I became vegan and discovered this amazing protein source.
ARE VEGGIE CHUNKS THE SAME AS SOY?
So yes veggie chunks are essentially made from soybeans which is the same plant that tofu is derived from. Obviously if you have an intolerance to soy or avoiding for health reasons then you can check out our other delicious recipes.
However if you are cautious or skeptical about soy or tofu we addressed those concerns in our Jerk Tofu Steaks recipe. Soybeans being a complete protein, can be cooked and eaten on their own. Tofu is one type of product made from the soybean. Tofu and soy are a staple in a number of Asian cuisines and tofu has become a popular meat substitute in Western cuisines both because of its health benefits and because it can be prepared easily in a number of ways.
PREPARING THE SOY CHUNKS
Prepare the soy chunks according to package ingredients. Both a benefit and a drawback of tofu/soy chunks is they are tasteless on their own, but will inherit the flavours of marinades, herbs and desired seasoning.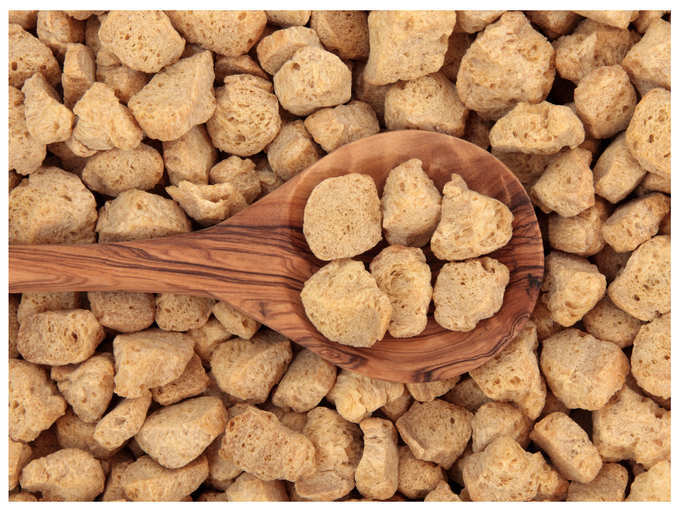 The soy chunks are basically sold dehydrated and must be hydrated with liquid prior to use. Soy chunks are sold in different shapes and sizes. For this recipe we will use the soy chunks that are bit-size cluster shaped. Once hydrated they will expand to about three times their original size – AMAZING RIGHT!
Again prepare the chunk according to package instructions. This typically involves adding the chunks to boiling water and allowing time to expand usually 10-15 minutes. Personally I like to add some seasoning after adding the liquid. I typically add a bit of salt, black pepper, garlic powder, onion powder, soy sauce and browning.
WHAT TO SERVE WITH VEGGIE STEW CHUNKS?
Stew Veggie Chunks can be served with traditional rice and peas, couscous, bulgur, barley, quinoa and peas or cooked food like boiled dumpling and bananas.
BROWN STEW VEGGIE CHUNKS RECIPE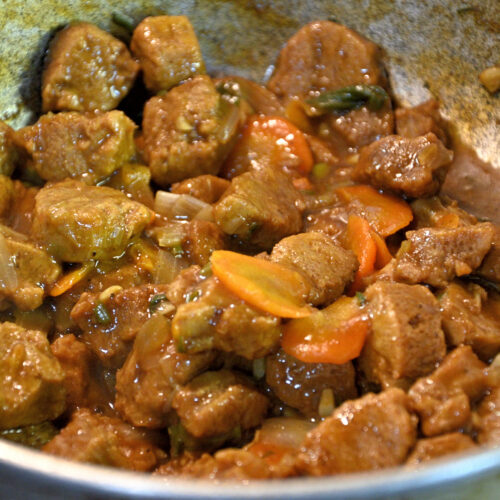 Brown Stewed Veggie Chunks
This protein rich brown stew veggie chunks is a quick and easy recipe perfect with rice and peas, fried plantains, cooked food or quinoa.
Ingredients
2

Cups

Soya Chunks

Pre-soaked or Boiled

1.5

Cups

Water

1

Small

Onion

Diced

2

Garlic

1

Small

Carrot

Diced

1

Small

Tomato

Diced

2

Thyme

2

Scallion

Chopped

1

Scotch Bonnet Pepper

1/2

Red Bell Pepper

Diced

3

Tablespoon

Coconut or Grapeseed Oil

1

Teaspoon

Garlic Powder

1

Teaspoon

Onion Powder

1

Teaspoon

Black Pepper

1

Teaspoon

Salt

1

Teaspoon

Soy Sauce

Optional

1

Teaspoon

Browning Sauce

Optional

1

Teaspoon

Hot Pepper Sauce

Optional
Ketchup Mixture
2

Tablespoon

Ketchup

1/4

Cup

Water

1/2

Teaspoon

Brown Sugar
Instructions
Prepare Soy Chunks
Prepare veggie chunks per package instructions,  this usually requires soaking in warm water for 10-15 minutes.  While soaking I add browning and a little of the seasoning to give some flavour. I typically add a bit of salt, black pepper, garlic powder, onion powder, soy sauce and browning (optional: cane sugar, caramel, salt mixture). Before using drain off any excess liquid (can be reused in recipe).
Recipe
Add Coconut oil, grapeseed oil (olive oil also works) to a deep pot on high heat.

Add Scotch Bonnet Pepper to pot and swirl around for a few seconds (adds extra flavour). Skip if you are not a fan of too much heat. Make sure pepper is dry to prevent splatter.

Add soaked soy chunks to pot and allow to brown for 3-5 minutes. Stir as needed to prevent burning or sticking to pot.

Place all vegetable ingredients (onion, carrots, thyme, scallion, tomato, bell pepper) in pot and allow to cook on high heat for 2 minutes. Stir as needed.

Add water and desired seasoning i.e. Garlic powder, onion powder, black pepper, salt, browning, ketchup.

Cover and turn down to medium-low and simmer for 10-15 minutes until chunks are tender.

Add ketchup mixture and hot pepper sauce (if using).

Cover and allow to simmer on low for another 5 minutes.

Optional: Thicken gravy with corn starch mixture (1 tsp corn starch/2 tsp cold water).
Notes
TIP: When hydrating the soy chunks and after adding your seasoning the longer you can leave your chunks to absorb the flavour the better.
Also if adding the scotch bonnet pepper to the oil as suggested to leave the pepper intact whole. You do not want the seeds to burst this will cause your pot to be extra "hot". This tip adds a lot of flavour to your pot if one correctly.
If you are wondering what browning sauce is. It is a Caribbean speciality sauce made with cane sugar, caramel and salt. You can make your own or just buy an off the shelf brand. i.e. Grace Kennedy, Irie, etc.
---
---