Jerk Spiced Lentils Recipe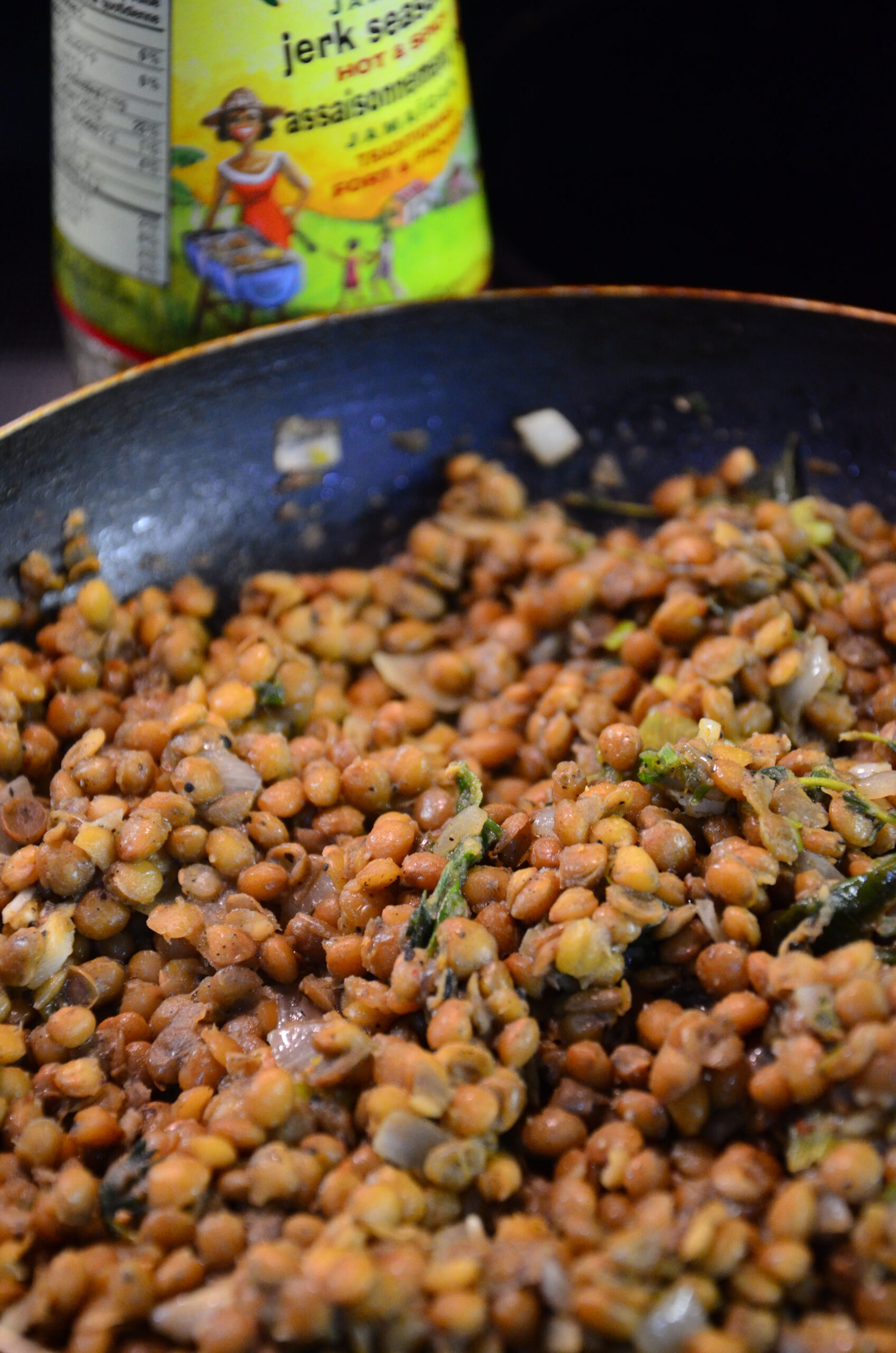 Lentils, lentils, lentils – I bet you didn't know those miniature rice-sized innocent looking legumes pack a powerful punch in a small size. Growing up I don't think I ever really noticed lentils, it was until I became vegan looking for a good source of protein and fibre that I learned about these amazing plant source. This jerk spiced lentils recipe delivers a delicious combination of flavour and packed nutritional content but don't take our word for it – definitely give it a try!
WHAT ARE LENTILS
Lentils are legumes—cousins to beans, chickpeas, soybeans and peanuts. The name "lentil" actually comes from the Latin word for "lens" – who knew? Lentils belong to the legume family which also includes beans, peas and peanuts. Their shape resembles a tiny bean and they come in a variety of colours: red, brown, black, and green varieties. The brown variety are my absolute favourite but nothing wrong with the other colours. As I mentioned lentils contain high levels of protein and fibre, while low in fat and calories. Just look at the protein chart below for yourself.
Protein
per Cup (128g)
Protein
per 100g
18g
9g
Lentil protein breakdown
As you can see from the chart, lentils pack some of the highest protein numbers from the legume family. In addition to protein, lentils pack around 32% of the recommended daily fibre intake – AMAZING right? Lentils are also a great source for other minerals like potassium, folate, iron and manganese.
WHAT JERK SEASONING TO USE?
In terms of the jerk seasoning or jerk marinade you can use any brand you like or make your own if you are brave enough. I have my own preferred brand (send a DM if you want to know or check my Instagram feed you will be sure to spot my favourite Jamaican brand of marinade.
JERK SPICED LENTILS
Jerk spiced lentils recipe below. Enjoy and do let us know what you think about the recipe.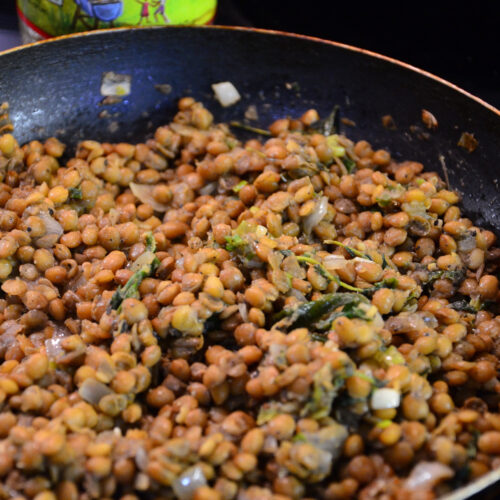 Jerk Spiced Lentils Recipe
Enjoy this deliciously seasoned jerk spiced lentils recipe; high in protein and fibre and minerals great meat replacement.
Ingredients
1.5-2

cups

Cooked Lentils (brown, yellow or green)

1

Medium Onion

Chopped

2

Garlic

Chopped

1

Scallion

Chopped

3

Thyme

2

tablespoon

Jerk Seasoning

1/2

teaspoon

Black Pepper

1/2

teaspoon

Garlic Powder

1/2

teaspoon

Salt
Instructions
Saute onions, garlic, scallion and thyme

Add jerk seasoning per your liking. Best to add a little at a time and taste test

Add black pepper, salt, garlic powder and stir

Cook on medium-low for another 8-10 minutes. If necessary add a tip of water if too dry.
Notes
Adjust the jerk seasoning per your personal preference. I recommend adding a little bit at a time, tasting and adjust accordingly.
---
---