Jerk Tofu Steaks with Maple Syrup Glaze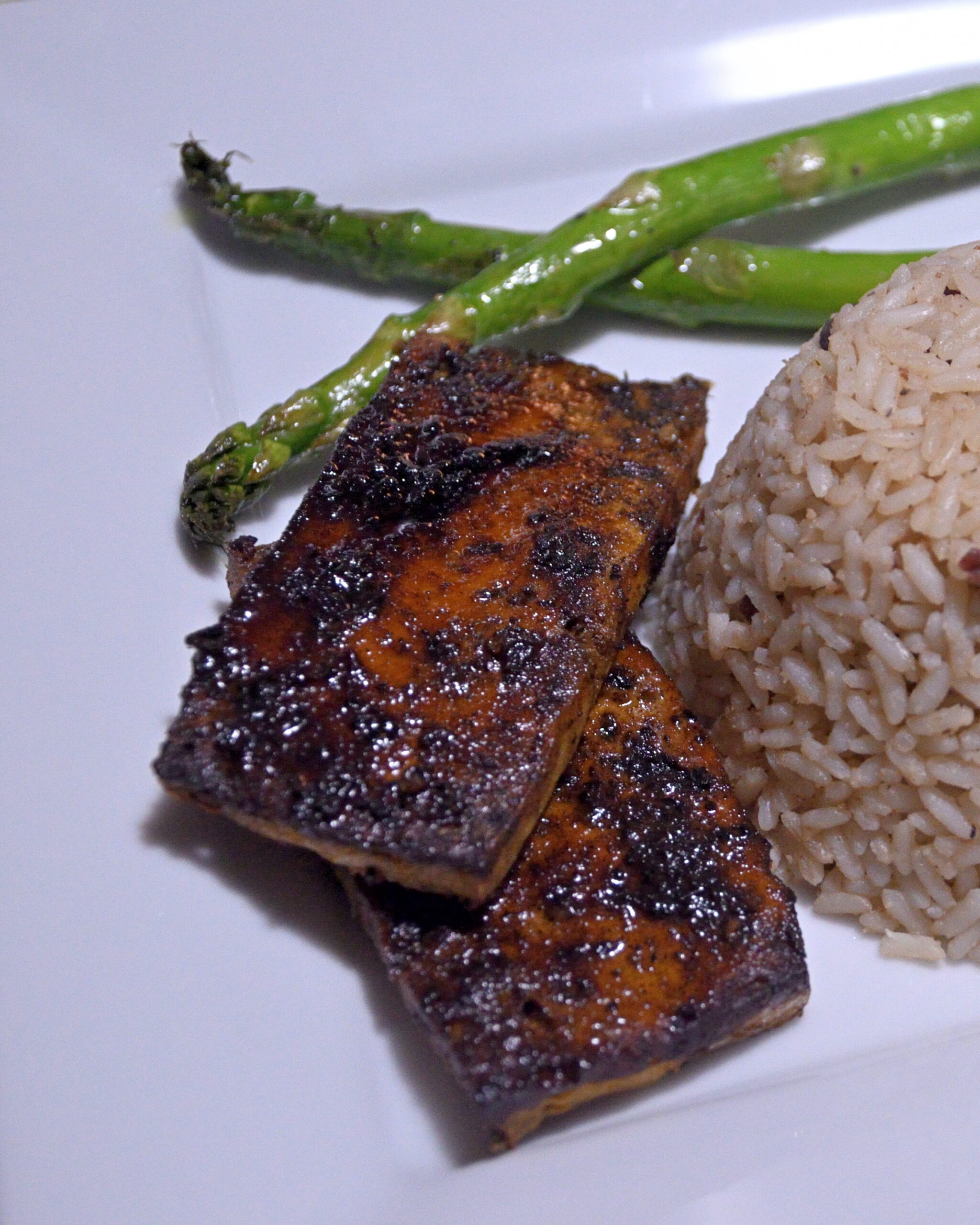 Jerk tofu steaks anyone? Not a fan of tofu? Maybe you are not doing it right! Let me tell you once you try this maple glazed jerk tofu steaks recipe I promise you'll have a newfound love for the versatility of tofu.
There was a time when I would scoff at the very mention of the word tofu. Truth is I had heard about it but always associated it with negative feelings, I imagined it would be flavourless and there were mentions of issues with soy which tofu is derived from. I hadn't done any research of my own just anecdotal references from "other people".
MY TOFU EXPERIENCE
The first time I really tried tofu was from an asian food joint and I made the mistake of responding yes when asked if I wanted the soft tofu version – I didn't know they were available in soft, medium, firm, extra firm at the time and in my ignorance I didn't bother to ask. Just pass the tofu lady. Well that was a colossal mistake, anyone that's ever had the soft version of tofu knows it's very mushy – to say the least I was less than impressed and to make matters it had like zero flavour to it. So that was my first introduction to tofu.
WHAT IS TOFU AND IS IT HEALTHY
Tofu is made from the soybean plant (a type of legume grown for its edible bean); which is then curdled and pressed into blocks; similar to making cheese!. Soybeans are rich in protein and are used to make food products such as tofu, soy milk and various dairy and meat substitutes.
Soybeans are mainly composed of protein but also contain good amounts of carbs and fat. For example 100g of tofu yields around 16g of protein, 9g of carbs, 6g of fibre. This makes tofu an excellent source of plant based protein. Soybeans are a good source of various vitamins and minerals, including: Vitamin K1, Folate, Manganese, Copper and Thiamine (Vitamin B1).
BUT ISN'T SOY BAD FOR YOU?
Persons with an aversion to tofu typically will sight studies pointing to tofu containing phytoestrogens – this is plant form of estrogen. Some persons believe plant estrogen can negatively impact hormone function and increase risk for certain types of cancer. However, many studies have shown this is not accurate.
The last point I will make on it this; tofu is a staple food item in many large countries like Japan, China and Brazil and has been consumed for centuries by these populous – I think we can agree if there were any true cause for concern we would know by know.
Here's a breakdown of protein consumption around the world. Soybeans are also heavily fed to livestock which is then consumed by non-vegans (if it's good enough for livestock then that's saying a lot).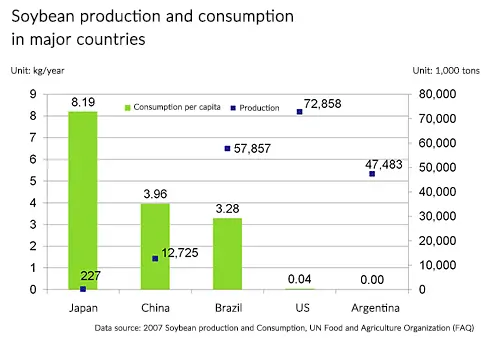 WHAT TOFU TO BUY FOR YOUR JERK TOFU
Be aware soybeans are one of the most heavily grown genetically modified plant (GMO) in the world. I strongly suggest you always purchase non-GMO/organic tofu whenever possible.
For our recipe you can use medium, firm or extra firm varieties. I have made this jerk tofu recipe with all three but I actually prefer the firm versus extra firm.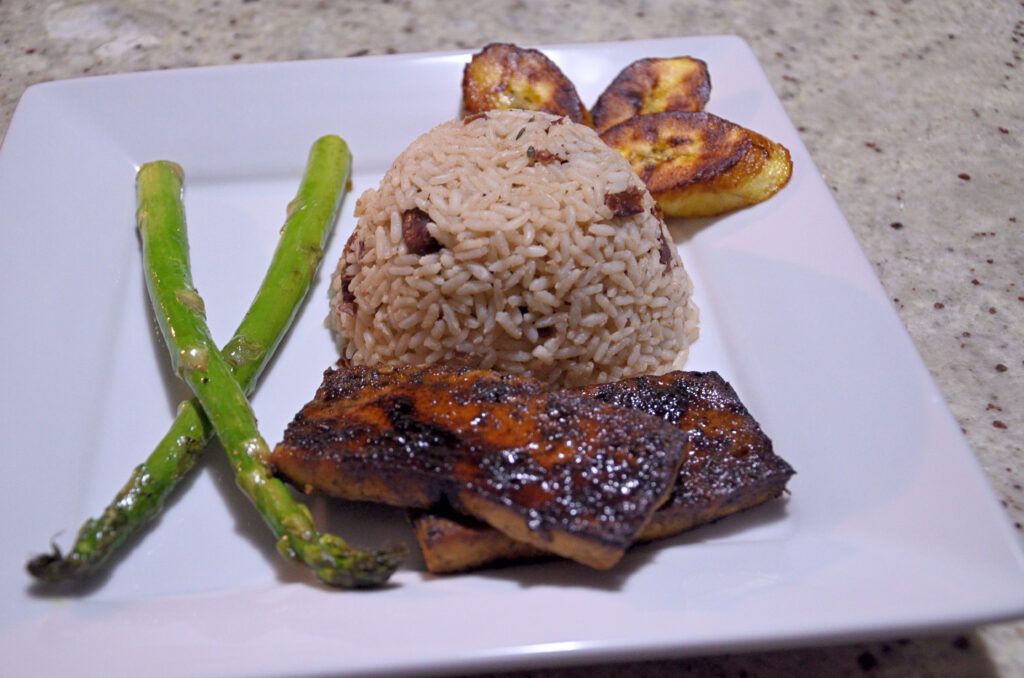 JERK TOFU STEAKS RECIPE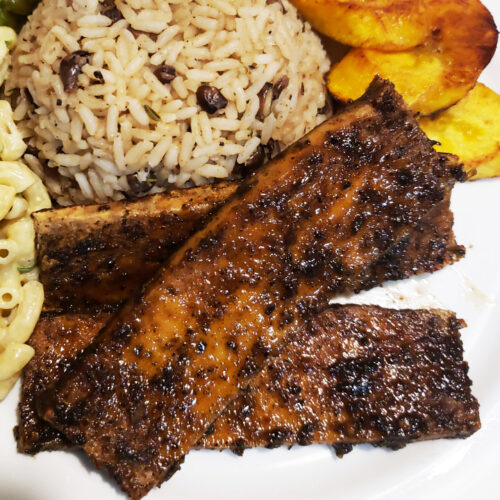 Maple Glazed Jerk Tofu Steaks
Deliciously seasoned tofu steaks in Jamaican jerk seasoned marinade with a maple glazing. You will absolutely love these for dinner.
Ingredients
1

block

Organic Tofu

firm or extra firm

2

tablespoon

Jerk Marinade

2

tablespoon

Maple Syrup

organic

2

teaspoon

Olive Oil

extra virgin

2

tablespoon

Water

1

teaspoon

Salt

1

teaspoon

Black Pepper

1

teaspoon

Garlic Powder

1

teaspoon

Onion Powder
Instructions
Tofu Preparation
Remove tofu from packaging, wash thoroughly and drain any excess water

Slice tofu length wise approx. 1/2 or 1/3 inch thick

Place strips in a baking tray add olive oil and toss to coat

Add seasoning: salt, black pepper, onion powder, garlic power and toss
Prepare Jerk Sauce
In a small dish combine jerk marinade, maple syrup, water and stir well
Cook
Place baking tray in 350 degree oven and bake for approx. 15 minutes turning over in between

After 15 minutes remove baking tray and pour the jerk marinade over tofu

Use a basting brush to spread the jerk marinade all over the tofu on both sides

Return baking tray to oven and continue baking for another 7 minutes

Optional: brush with another 1 tbsp of maple syrup for an extra glaze
Notes
For our recipe you can use medium, firm or extra firm varieties. I have made this jerk tofu recipe with all three but I actually prefer the firm versus extra firm.
Tofu or bean curds is a plant-based protein made from soybeans. The beans are soaked, cooked, and crushed into a liquid. With the help of a coagulant, the liquid thickens to become tofu. Tofu is low-carb, dairy-free, gluten-free, cholesterol-free, and vegan, so it is popular with people who have specialized diets.
---
---