Okra Fried Rice Recipe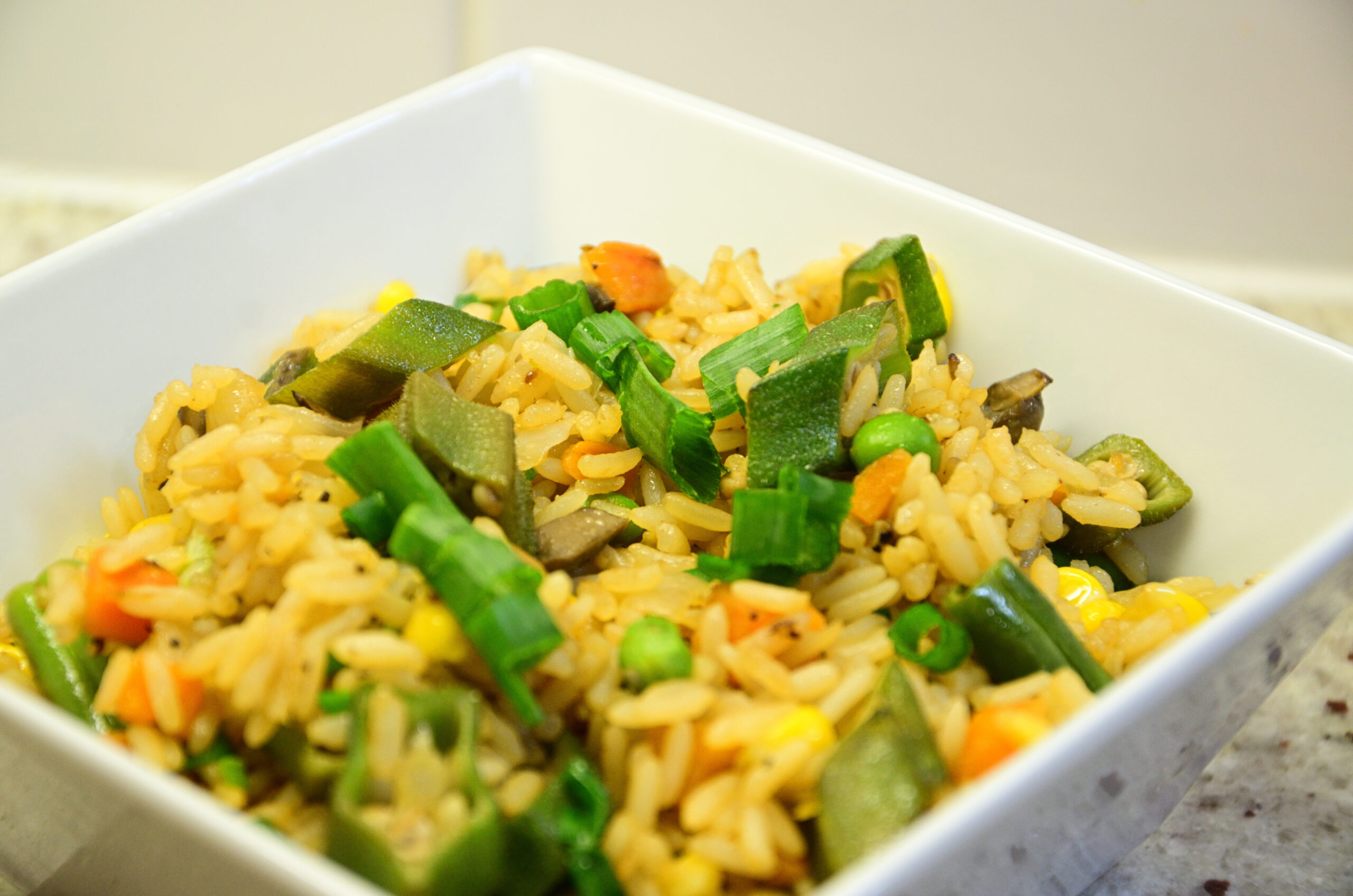 Need a quick and delicious asian inspired fried rice recipe? We got you covered with this simple okra fried rice recipe. Why okras? Because they are uber nutritious and we just can't bet enough okras.
As you've probably guessed we love okras around here. We probably make a dish with okras at least 1-2 times per week. We are always seeking new recipe ideas to incorporate more vegetables like okras. If you haven't already check our Curry Okra and Butter Beans recipe which is our all-time favourite okra dish.
TIPS FOR THE RICE
Using Cold Rice: Just about all fried rice recipes recommend using cold or leftover rice that's been chilled for a few hours or overnight. I must admit I'm usually in a rush or just neglected to plan ahead – again. If you are in a rush like I'm most of the time you can go ahead and cook your rice like you normally would. Then place in the freezer for at least 15-30 minutes to get some of the benefits of using cold rice. You'll notice the benefit of using cold rice when you attempt to "fry" the rice. Rice that is still warm or hot doesn't fry very well. If that's not a deal breaker for you then by all means use what you got.
Use Vegan Margarine/Butter: While you can use peanut oil or any oil for that matter in your fried rice you will get some better flavours if you use some vegan margarine or butter instead of oil.
Use Toasted Sesame Oil: To finish off your fried rice and bring out that traditional asian fried rice taste and smell you'll definitely want to add a little bit of sesame oil. Toasted sesame is best but you can also use regular sesame oil. Just be sure to add a small amount as a little goes a long way.
WHAT VEGETABLES TO ADD TO YOUR OKRA FRIED RICE?
Feel free to add additional veggies to your fried rice. Although my recipe calls for frozen vegetables (since it's meant as a quick meal) feel free to use or add any freshly diced vegetables i.e. carrots, peas, broccoli, corn, mushrooms, etc.
OKRA FRIED RICE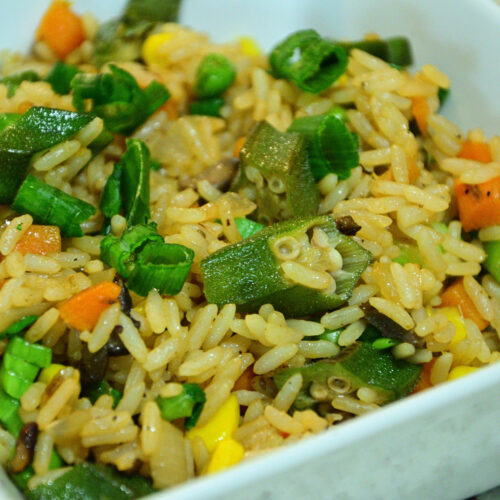 Okra Fried Rice
A quick and delicious asian inspired fried rice recipe with okras and loads of vegetables
Ingredients
2-3

Cups

Cooked rice

1

Cup

Okras

Sliced

1

Cup

Mushrooms

Chopped

1-2

Cups

Frozen Vegetables

1

Medium

Onion

Diced

1

Clove Garlic

Minced

2

Scallions (Green Onion)

Thinly Sliced

2

Tablespoons

Margarine/Vegan Butter or Peanut Oil

2

Tablespoons

Soya Sauce

1

Teaspoon

Toasted Sesame Oil
Instructions
Cook Rice
Cook rice according to instructions. It's best to use rice that's been cooked and chilled for a few hours.
Recipe
Heat margarine/vegan butter or peanut oil in a non-stick pan/skillet or wok.

Add onions and garlic and allow to cook for 1-2 minutes.

Add okras and allow to cook for 3-5 minutes to remove any sliminess. Stir constantly to avoid sticking.

Add frozen vegetables, scallions, mushrooms and other vegetables. Allow to stir fry for 5-7 minutes while stirring constantly to avoid sticking to pot.

Add in cooked rice and stir.

Add soy sauce and stir to coat. Cook for 5-7 minutes stirring constantly to avoid sticking.

Add any desired seasoning i.e black pepper, salt, garlic powder, etc.

Turn off and remove pot from stove. Add sesame oil and stir to coat.
Notes
Use High Heat: When frying the rice be sure to set dial to high heat setting. This will prevent the rice and vegetables from sticking to the pan.  As well be sure to stir constantly. Add Sesame Oil at end of cooking: Add the sesame oil towards the end of cooking. Sesame oil is not meant to be cooked with but rather flavour the rice.
---
---