Spicy Jerk Chickpeas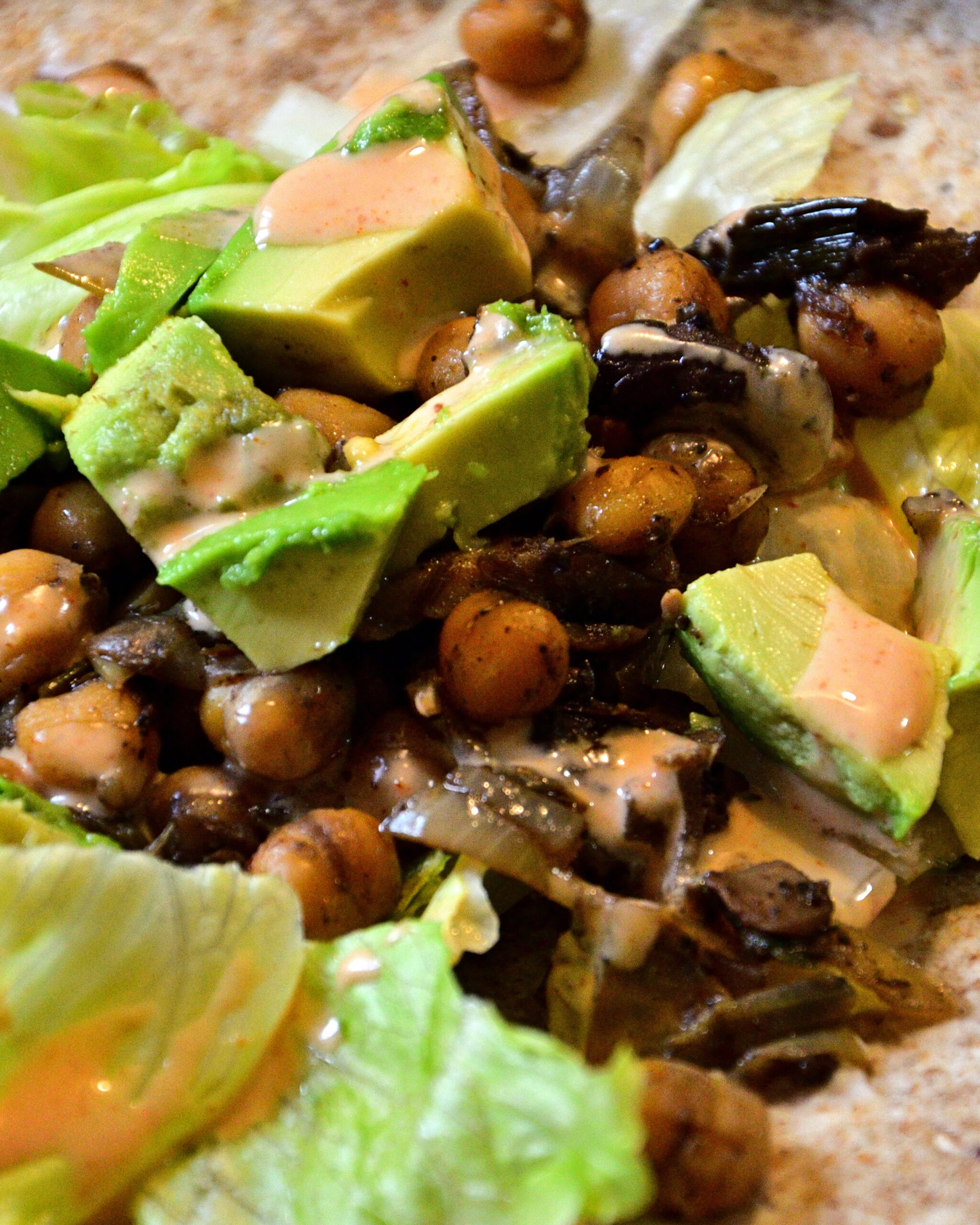 Chickpeas are often overlooked but they are so versatile. So it was only natural that we discovered how to make some delicious jerk chickpeas to exploit some amazing flavour. You can make this flavourful spicy jerk chickpeas for a nutritious, protein packed lunch or dinner in less than 30 minutes.
If you love spicy food, you have come to the right place. To say we love spicy food would be an understatement. And just because we are vegan doesn't mean we can't still find uses for jerk seasoning. If you haven't already – checkout out our amazing jerk lentils recipe as well as our delectable jerk tofu steaks recipe.
CHICKPEAS HEALTH BENEFITS
By now you already know about the amazing nutritional benefits of chickpeas. Chickpeas are a nutritional and health powerhouse packing tons of healthy nutrients and health benefits.
Per 100 grams of chickpeas you are looking at a whopping 365 calories, 19 grams of protein, 61 grams of carbs with only 6 grams of fat.
In terms of health benefits chickpeas are known to lower cancer risks, lower cholesterol and improve blood. Here are some other quick highlights for one cup of chickpeas:
Provides 6-8 percent of your daily requirement of calcium
A whopping 40 percent of your daily recommended fiber
Provides around 70 percent of your daily recommended folate
Provides other nutrients: iron, phosphorus, copper, manganese
WHAT JERK SEASONING TO USE?
In terms of the jerk seasoning or jerk marinade you can use any brand you like or make your own if you are brave enough. I have my own preferred brand (send a DM if you want to know or check my Instagram feed you will be sure to spot my favourite Jamaican brand of marinade.
WHAT TO EAT WITH THESE SPICY JERK CHICKPEAS?
In terms of what to pair with these jerk chickpeas there are so many options. My absolute favourite though are with a nice dhalpuri roti, flatbread, with rice and peas or with a jerk chickpea wrap.
SPICY JERK CHICKPEAS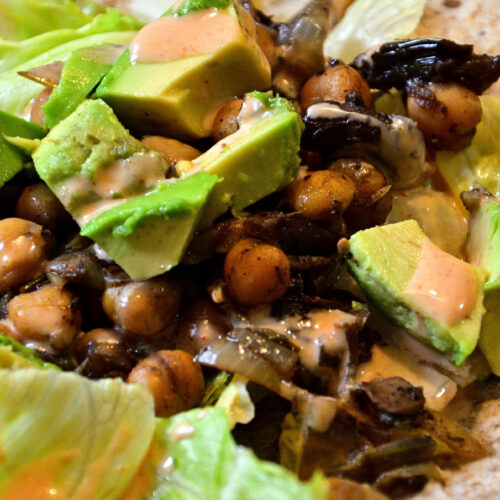 Jerk Chickpeas
Ingredients
2

Cups

Cooked Chickpeas

1/2

Small Onion

Diced

2

Garlic Cloves

Diced

2

Tablespoons

Jerk Marinade

1

Teaspoon

Garlic Powder

1

Teaspoon

Onion Powder

2

Sprigs Thyme

2

Green Onion/Scallion

Chopped

1/2

Teaspoon

Black Pepper

1/2

Teapspoon

Salt

2

Tablespoons

Olive Oil

1

Teaspoon

Soya Sauce

1/2

Cup

Water

1/3

Teaspoon

Browning
Instructions
Wash and cook chickpeas (Canned chickpeas can be used but sure to drain and wash).

Add chickpeas to an airtight container, add a teaspoon of the jerk marinade and the soya sauce. Stir/shake to combine, place in fridge for an hour or more (overnight works best).

Heat olive oil In medium pot/saucepan over medium-high.

Add onions and cook for a minute.

Add garlic, green onions, thyme and cook for a another minute.

Allow chickpeas to cook for 5-7 minutes stirring as needed. Chickpea pieces should begin to get charred/browned.

Add remaining jerk marinade and seasoning i.e. salt, black pepper, garlic powder.

Add 1/2 cup water, browning, cover and allow to continue cooking on medium heat for another 4-6 minutes.

Chickpeas should be tender and ready to serve.
Notes
It should go without saying but adjust the jerk seasoning/marinade according to your taste buds and personal preference. Add more or less heat as desired.  The chickpeas don't tend to absorb the jerk seasoning as traditional meat so you won't feel the heat as much.
---
---