Steamed Cabbage Recipe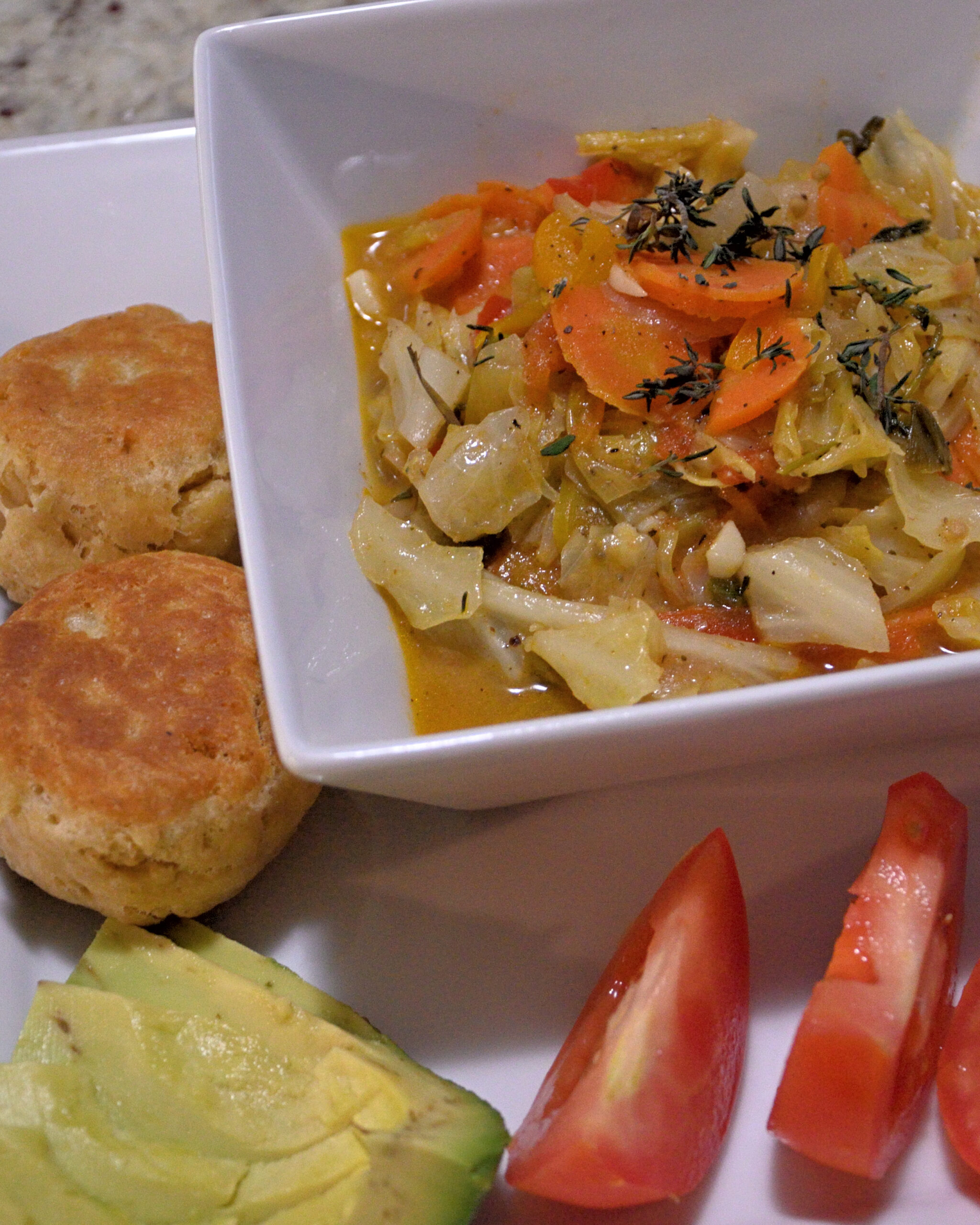 When it comes to easy to prepare vegan meal ideas, it doesn't get any simpler than steamed cabbage. This Steamed Cabbage recipe is very simple, budget friendly and can be prepared in under twenty minutes for breakfast, lunch, dinner or a side item. It's full of flavour and nutrients to satisfy the whole family.
When people say being vegan is expensive I have to laugh and wonder if these people really believe what they're saying. A budget friendly vegan meal like this won't come close to breaking the bank. And yet will not compromise on flavour.
CABBAGE NUTRITION BENEFITS
While looking closer like a lettuce; cabbage belongs to the Brassica genus family of vegetables. The Brassica (Brassicaceae) family of vegetables include cruciferous vegetables such as the cabbage, cauliflower, broccoli and mustards.
While it may not seem like it on the surface, the nutrient content of cabbage is often overlooked by its simplicity. For example cabbage has been known to reduce inflammation, improve digestion and reduce cholesterol.
Because its low calorie and fat-free, cabbage is ideally suited for those looking for healthy weight maintenance. Per 100grams there's approximately 22 calories and 0.1grams of fat.
In promotion of good cardiovascular health, cabbage is a good source of fibre, potassium, vitamin-B and folate.
GREEN CABBAGE VS PURPLE CABBAGE
Everyone has their personal preference when it comes to green, red or purple cabbage. My personal preference is green cabbage but I do also enjoy purple cabbage occasionally. I do get kind of bothered with the purple coloured liquidy stuff from the purple cabbage. This can be a turn off for some people.
WHAT TO HAVE WITH STEAMED CABBAGE AND CARROTS
Vegan cabbage can be paired with avocados, fried dumplings (johnny cakes), sweet potatoes, brown rice, breadfruit, bammy (flatbread made with grated cassava), cooked food like yams, bananas, etc. My personal favourite is with fried dumplings and avocado or over steamed brown rice.
VEGAN STEAMED CABBAGE RECIPE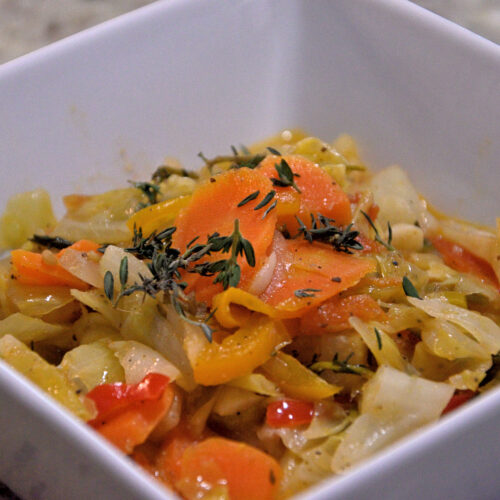 Steamed Cabbage
Steamed Cabbage is a very simple, easy and low cost vegan recipe to prepare for breakfast or dinner. Yet it's full of flavour and vibrant colours to satisfy the whole family.
Ingredients
1

Large

Cabbage

Chopped

1

Large

Carrot

Sliced

1

Large

Yellow Onion

Large chop

1

Medium

Tomato

Diced

1

Large

Red Bell Pepper

Diced

1

Large

Yellow Bell Pepper

Diced

2

Garlic

Diced

2

Scallion

Diced

2

Thyme Leaves

1

Scotch Bonnet Pepper

1

Teaspoon

Salt

1

Teaspoon

Black Pepper

1

Teaspoon

All Purpose or Vegetable Seasoning

1

Teaspoon

Garlic Powder

1

Teaspoon

Onion Powder

2

Tablespoons

Coconut or Olive Oil

1/4

Cup

Water

Optional
Instructions
Prepare Cabbage
Thoroughly wash and clean cabbage, remove stems and any inedible pieces.

Using a large kitchen knife carefully cut cabbage into two halves.

For each half, carefully cut into desired thin stripped size. Usually the pieces closest to the core are inedible and are discarded.
Cabbage Recipe
Heat 2-3 tablespoons of coconut or olive oil in deep pan.

Add scotch bonnet pepper and swirl for a few seconds to add some flavour (optional).

Add onions, carrots and allow to saute for 1-2 minutes.

Add tomatoes, garlic, bell peppers, thyme, scallion and fry for another 2-3 minutes stirring occasionally.

Add half the cabbage mixture and stir to mix.

Add the remaining cabbage and stir to combine.

Add desired seasoning: salt, black pepper, all purpose seasoning, onion powder, garlic powder.

Cover pot, reduce heat to medium and allow to steam cook for 12-15 minutes stirring occasionally.

If necessary add a little bit of water to the pot. However it's best to allow the water from the cabbage to produce the desired steam. Once desired tenderness is reached remove from heat and serve.
---
---