Steamed Collard Greens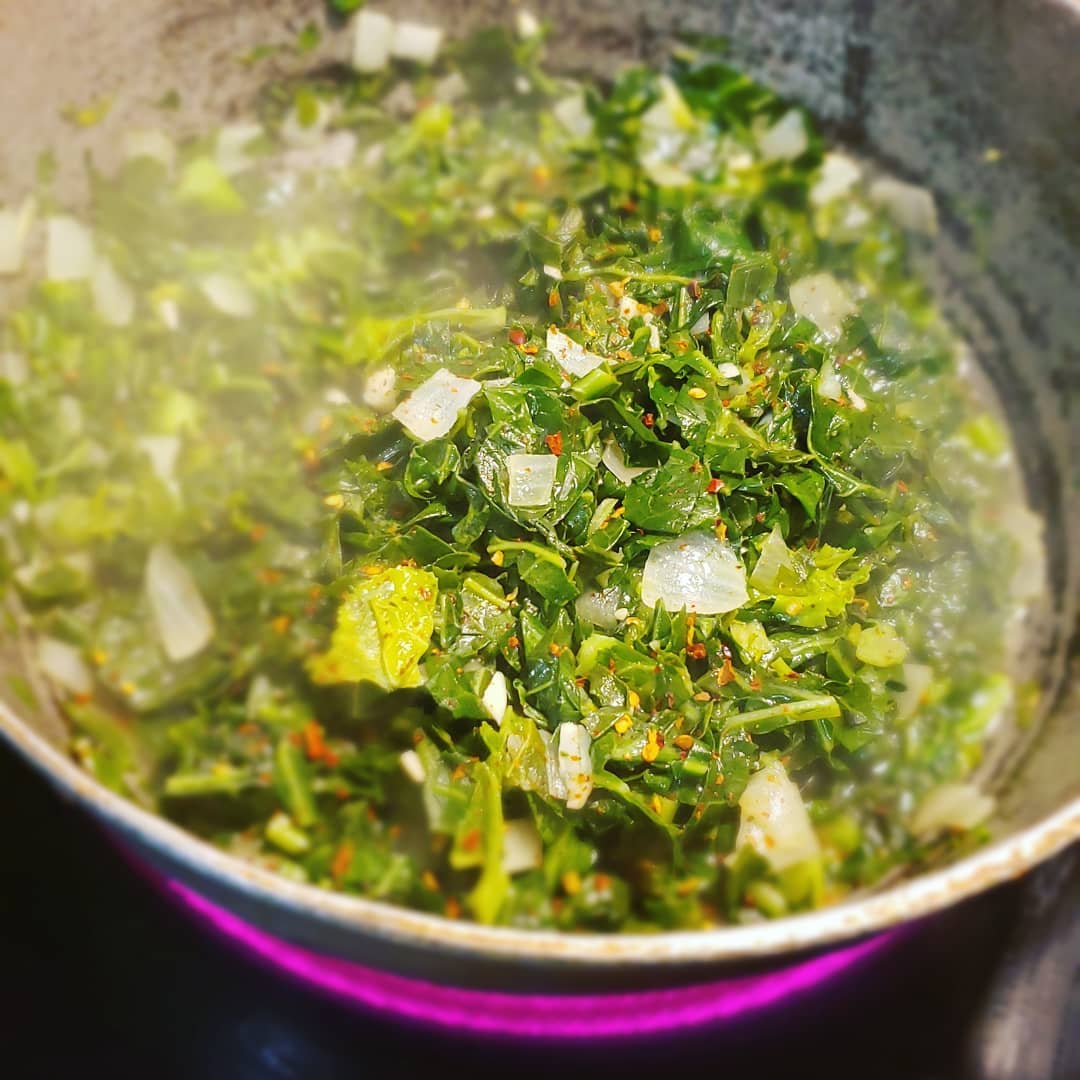 This quick and easy steamed collard greens recipe is a great alternative to the traditional Caribbean callaloo vegetable. While callaloo is always the preferred dark leafy green vegetable I have come to appreciate collard greens over time as a great alternative. Previous to collard greens I would opt for spinach but there's just something about collard greens that pulled me in. Actually I think I first learned about collard greens from the great Patti LaBelle.
WHAT ARE COLLARD GREENS?
Collards are long Collard Greens are in the same family as kale, spinach and mustard greens. In case you are unaware of this vegetable is a very popular staple in the southern United States and favourite among black Americans. They are considered part of the "soul food" along with cornbread, sweet potato pie, potato salad, etc.
Traditionally Americans add different meats like pork, turkey and such to their collard greens – NAH THAT'S A NO FOR US. Nonetheless we can make delicious steamed collard greens without meat of course.
ARE COLLARD GREENS HEALTHY?
Collard greens are an excellent source of vitamin A, C and K. In addition they are low in calories so great for weight control. As part of the cruciferous family they are known to have cancer fighting properties. Most health nutritionist recommend having a cups of cruciferous vegetables per week. This makes collards a great choice as a member of this vegetable family.
TIPS FOR COOKING
Avoid overcooking: As with all cruciferous root vegetables try to avoid overcooking your collard greens to retain nutrients and avoid the unpleasant sulfur like smell associated with overcooking.
Cut finely: I find it best to remove the stems from the leaves. However you may choose to remove the stems and cut thinly and use as part of the dish. Roll up the leaves and chopped in fine thin pieces. This will also help to reduce cook time.
STEAMED COLLARD GREENS
Recipe below
Steamed Collard Greens
This quick and easy collard greens recipe is a great alternative to the traditional Caribbean callaloo vegetable.
Ingredients
4-5

Cups

Collard Greens

Thinly Chopped

2

Cups

Vegetable Broth

1

Medium

Onion

Chopped

3

Garlic Cloves

Diced

2

Tablespoon

Olive Oil

1

Tablespoon

White Vinegar

1

Teaspoon

Salt

1

Teaspoon

Black Pepper

1

Teaspoon

Onion Powder

1

Teaspoon

Garlic Powder

1

Teaspoon

Red Chilli Flakes

1

Teaspoon

Vegetable Seasoning
Instructions
In large pot heat olive oil.

Add onions and saute until translucent.

Add garlic and stir to combine.

Add collards and saute for 3-5 minutes. Mix to combine.

Add vinegar, salt, pepper, chili flakes and vegetable seasoning. Mix to combine.

Cover and cook on medium for 25-30 minutes until reaches desired tenderness.
Notes
The use of vinegar lowers the pH balance of the greens to remove the bitterish after-taste associated with dark leafy greens.
---
---