Super Green Spirulina Smoothie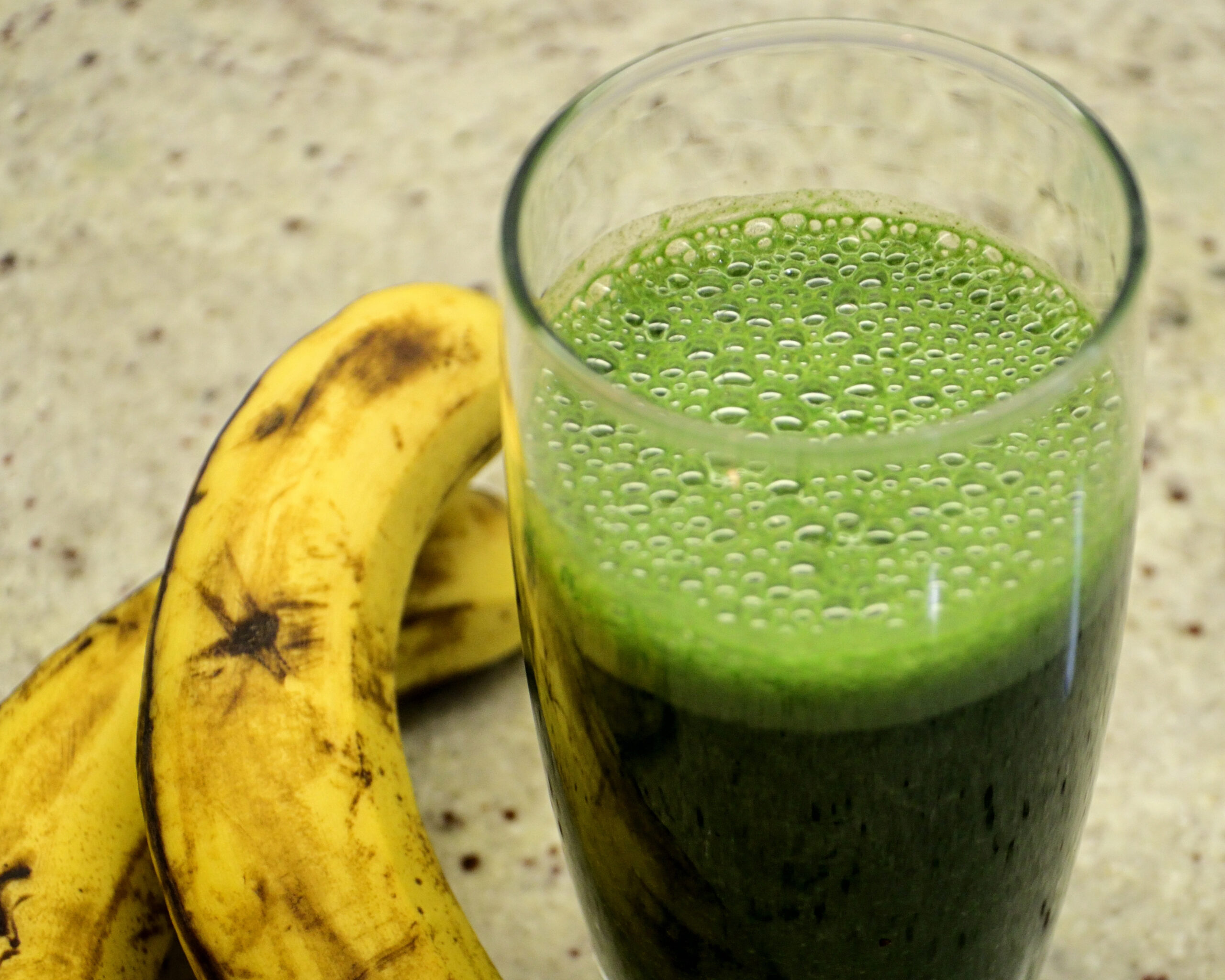 "Gimmie a bottle of spirulina" – shoutout to roots Reggae superstar the original Chronixx for respecting this superfood. Nothing like starting your day off right with this super green spirulina smoothie. Spirulina is a "super food" that packs a powerful punch of antioxidants, flavour and nutrients. It's an excellent ingredient to add to your diet and great for adding to those morning green smoothies.
What is Spirulina
Spirulina is a type of blu-green algae that grows in both fresh and salt water. It was known have been cultivated by ancient groups such as the Aztecs. They are tiny, single-celled shaped algae that contain an impressive 60 percent protein content.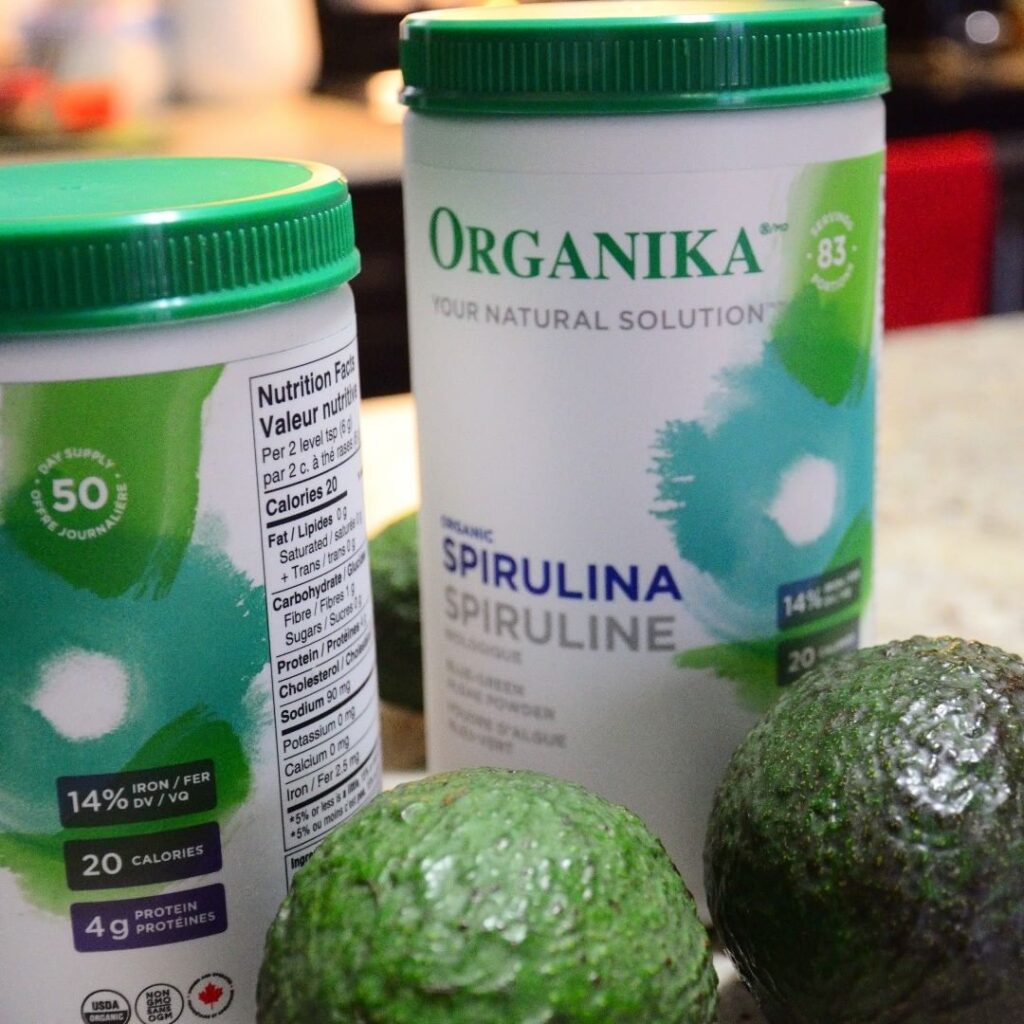 Spirulina Health Benefits
Spirulina health benefits include:
Rich source of thiamine, riboflavin, niacin, copper and iron
Has antioxidant and anti-inflammatory benefits
Cholesterol lowering abilities
Maintains healthy immune system through range of minerals and vitamins
Super Green Spirulina Smoothie
I also highly recommend adding some flaxseeds for more health benefits. I pretty much add flaxseeds to all my smoothies mainly for the omega-3 and plethora of rich nutrients.
Also I tend to always add some pea protein powder. If you don't know pea protein is extracted from yellow peas which means it's naturally vegan – it packs a whack of protein in a small scoop. This is a great protein source especially if you are bulking or looking to maintain body mass.
Other items you could add to your greens smoothie include: moringa powder, spinach, chia seeds. Sometimes I might even add some pineapples and ginger.
Just a word of caution, the powder tends to leave quite a mess if you ever spill while transferring to your blender. I suggest bringing the spirulina powder container as close as possible to your blender. I made this mistake quite a few times and cleaning up was not fun at all.
Finally when sourcing your spirulina be sure to stick to high quality organic brands.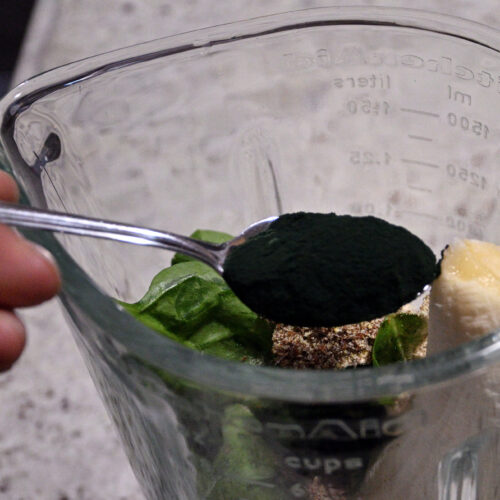 Spirulina Green Smoothie
A delicious green smoothie loaded with tons of nutrients with the added benefit the spirulina superfood.
Ingredients
1

Large Banana

1.5

Plant Milk

1

Teaspoon

Spirulina Powder

1/2

Avocado

1

Teaspoon

Ground Flaxseed

1

Teaspoon

Pea Protein Powder

Optional

1

Teaspoon

Moringa Powder

Optional

1

Teaspoon

Irish Moss

Optional

Spinach or Kale

Optional
Instructions
Combine all the above ingredients into a blender. Add the liquid before adding the spirulina powder (to avoid powder sticking to bottom of blender/mixer).

Blend until all ingredients are completely mixed. Mixing time will depend on type of blender used. For Nutribullet/Magic Bullet approximately 45-120 seconds. For more powerful blenders this time will likely be much shorter.

Serve and enjoy or optionally chill in fridge for a few minutes.
Notes
Be careful with the spirulina powder as it tends to leave quite a mess when spilt. 
---
---